Print Management Solutions
---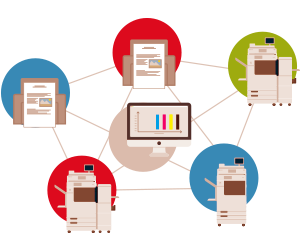 Signy Technologies established in 2005, We serve more than 1000 clients, in all sector across Andhra Pradesh and Telangana. To enhance the quality of our services, we have opened our local offices at vijayawada, vizag and other districts too.
The company is providing solutions to its customers through continuous innovations & exceeding customer expectations by differentiated products & services. The company also deliver customized order of products according to the client's requirements. The pillars of our success have been dedicated to efficient manpower, innovative thinking, ethical business strategies. Our major focus is on Print Management solution for any organization.
We also consider the importance of Save Environment and go green. It's time to stop the bad chemicals using in printer cartridges to save health too. Signy Print Management Solution providing the world class service in your budget.
Whether a short term printer rental or long term printer rental of Signy Technologies's makes more savings than a purchase.
Why Signy ?
» Flexibility of our rental Plans.
» Printing Tracking.
» Set User Quota.
» Set User Privacy.
» Stop unnecessary Printing.
All of our rentals includes service and toner supplies and fully maintained.
Our expertise and knowledge is guarantee that approximately 94% of problems can be solved on site.
Professional setup and maintenance.
Maintaining excellent levels of support and customer Service.
We have Bunch of engineers to sovle the technical problem.
Our team is working on print management system in order to reduce company's priting cost more than 30% against to your present budgent.
Only a call away +91-7780162799 for any Printer On Rent services in Hyderabad.